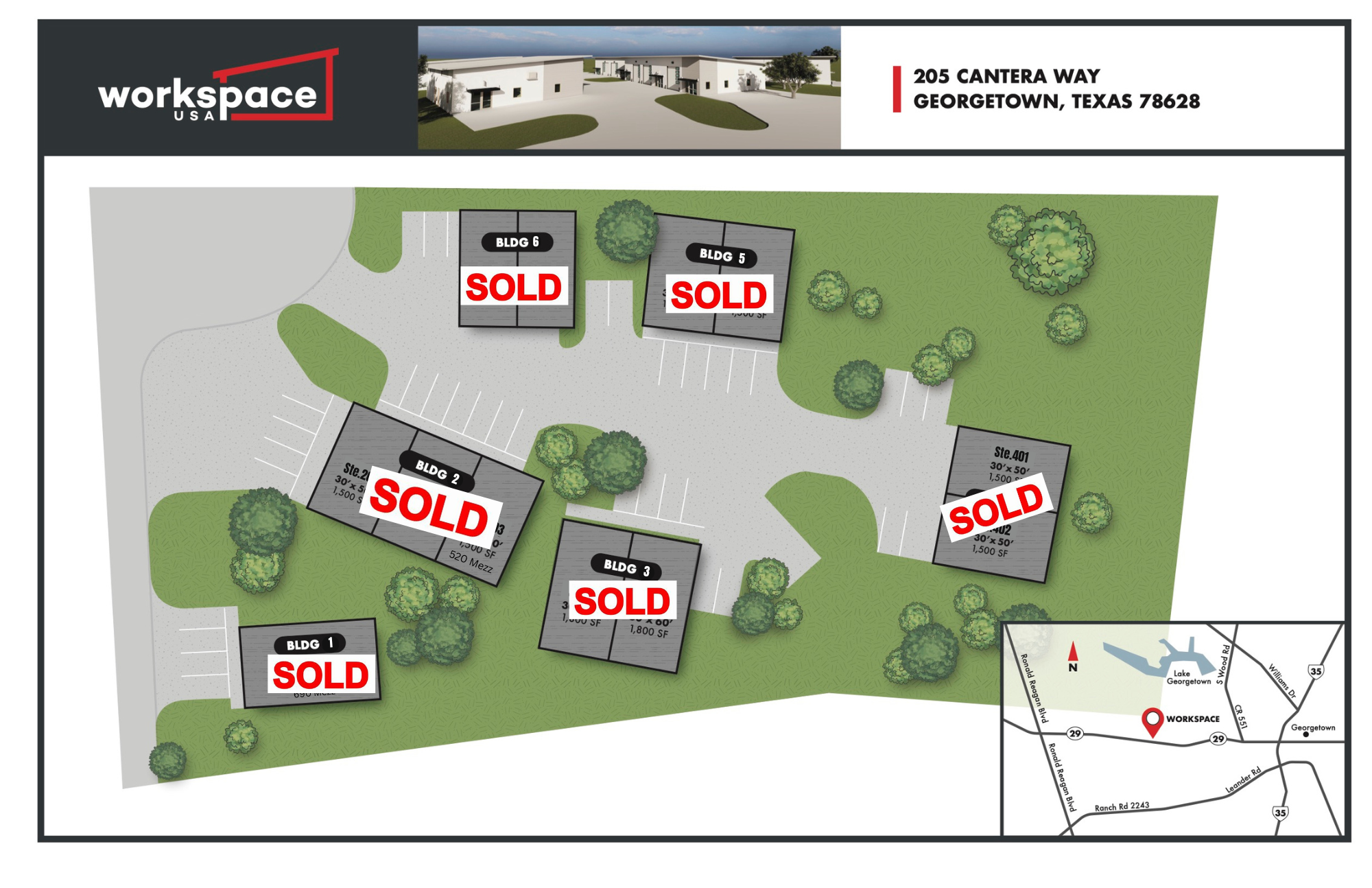 CURRENT AVAILABILITY : ALL PHASE 1 UNITS ARE SOLD
PHASE 2 BREAKING GROUND Q2 2023
Delivering Phase 1 Units in Late Spring/Early Summer 2022.
We are currently offering reservations for Preconstruction Pricing. The prices you see here today will be the lowest prices ever offered on the project. Construction prices are increasing at a 15-20% annual rate. There's never been a better incentive to reserve your unit today. Please refer to our site plan and inventory form for current availability, sizes, and prices or contact us for updates.
PRICING
BUILDING
SUITE
DIMENSION Width X Depth
FIRST FLOOR
SQFT
CONDITIONED OFFICE SPACE
 SHOP/
WAREHOUSE SPACE
OPTIONAL STAIRS
DECKED MEZZANINE SQFT
TOTAL SQFT
SALE PRICE
GROUND FLOOR SPACE $/SQFT
TOTAL FLOOR SPACE $/SQFT
1
 36 X 60
 2160
 480
 1680
 YES
 480
SOLD
N/A
N/A
2
201
 30 X 50
 1500
 364
 1136
 NO
 OPTIONAL
 OPTIONAL
SOLD
 N/A
 N/A
2
202
 30 X 50
 1500
 364
 1136
 NO
 OPTIONAL
 OPTIONAL
SOLD
 N/A
 N/A
2
203
 30 X 50
 1500
 364
 1436
 YES
 520
 2020
SOLD
N/A
N/A
3
301
 30 X 60
 1800
 364
 1436
 NO
 OPTIONAL
 OPTIONAL
SOLD
 N/A
 N/A
3
302
 30 X 60
 1800
 364
 1136
 NO
 OPTIONAL
 OPTIONAL
SOLD
 N/A
 N/A
4
401
 30 X 50
 1500
 364
 1136
 NO
 OPTIONAL
 OPTIONAL
SOLD
 N/A
 N/A
4
402
 30 X 50
 1500
 364
 1136
 NO
 OPTIONAL
 OPTIONAL
SOLD
 N/A
 N/A
5
501
 30 X 50
 1500
 364
 1136
 NO
 OPTIONAL
 OPTIONAL
SOLD
 N/A
 N/A
5
502
 30 X 50
 1500
 364
 1136
 NO
 OPTIONAL
 OPTIONAL
SOLD
 N/A
 N/A
6
601
 25 X 50
 1250
 390
 715
 NO
 OPTIONAL
 OPTIONAL
SOLD
 N/A
 N/A
6
602
 25 X 50
 1250
 390
 715
 NO
 OPTIONAL
 OPTIONAL
SOLD
 N/A
 N/A
PRICING
| | | | | |
| --- | --- | --- | --- | --- |
| BLDG | SUITE | DIMENSION | FIRST FLOOR SQFT | CONDITIONED OFFICE SPACE |
|  1 | |  36 X 60 |  2160 |  480 |
|  2 | 201 |  30 X 50 |  1500 |  364 |
|  2 | 202 |  30 X 50 |  1500 |  364 |
|  2 | 203 |  30 X 50 |  1500 |  364 |
|  3 | 301 |  30 X 60 |  1800 |  364 |
|  3 | 302 |  30 X 60 |  1800 |  364 |
|  4 | 401 |  30 X 50 |  1500 |  364 |
|  4 | 402 |  30 X 50 |  1500 |  364 |
|  5 | 501 |  30 X 50 |  1500 |  364 |
|  5 | 502 |  30 X 50 |  1500 |  364 |
|  6 | 601 |  25 X 50 |  1250 |  390 |
|  6 | 602 |  25 X 50 |  1250 |  390 |
| | | | | | |
| --- | --- | --- | --- | --- | --- |
| BLDG | SUITE | SHOP/ WH SPACE | OPTIONAL STAIRS | DECKED MEZZANINE SQFT | TOTAL SQFT |
|  1 | |  1680 |  YES |  480 |  2640 |
|  2 | 201 |  1136 |  NO |  OPT |  OPT |
|  2 | 202 |  1136 |  NO |  OPT |  OPT |
|  2 | 203 |  1436 |  YES | 520 | 2020 |
|  3 | 301 |  1436 |  NO |  OPT |  OPT |
|  3 | 302 |  1136 |  NO |  OPT |  OPT |
|  4 | 401 |  1136 |  NO |  OPT |  OPT |
|  4 | 402 |  1136 |  NO |  OPT |  OPT |
|  5 | 501 |  1136 |  NO |  OPT |  OPT |
|  5 | 502 |  1136 |  NO |  OPT |  OPT |
|  6 | 601 |  715 |  NO |  OPT |  OPT |
|  6 | 602 |  715 |  NO |  OPT |  OPT |
| | | | | |
| --- | --- | --- | --- | --- |
| BUILDING | SUITE | SALE PRICE | GROUND FLOOR SPACE $/SQFT | TOTAL FLOOR SPACE $/SQFT |
|  1 | | SOLD |  N/A |  N/A |
|  2 | 201 | SOLD |  N/A |  N/A |
|  2 | 202 | SOLD |  N/A |  N/A |
|  2 | 203 | SOLD |  N/A |  N/A |
|  3 | 301 | SOLD |  N/A |  N/A |
|  3 | 302 | SOLD |  N/A |  N/A |
|  4 | 401 | SOLD |  N/A |  N/A |
|  4 | 402 | SOLD |  N/A |  N/A |
|  5 | 501 | SOLD |  N/A |  N/A |
|  5 | 502 | SOLD |  N/A |  N/A |
|  6 | 601 | SOLD |  N/A |  N/A |
|  6 | 602 | SOLD |  N/A |  N/A |
FLOOR PLANS
BUILDING 2
BUILDING 3
BUILDING 4
BUILDING 5
BUILDING 6